SINGING LESSONS & FEES
"If you cannot teach me to fly, teach me to sing!"
– J.M. Barrie Peter Pan
Singing Lessons in Perth
I offer private singing lessons for all voice types and lessons are about much more than learning songs.
I am passionate about helping young singers become competent musicians as well as singers and I teach a wide variety of styles and techniques.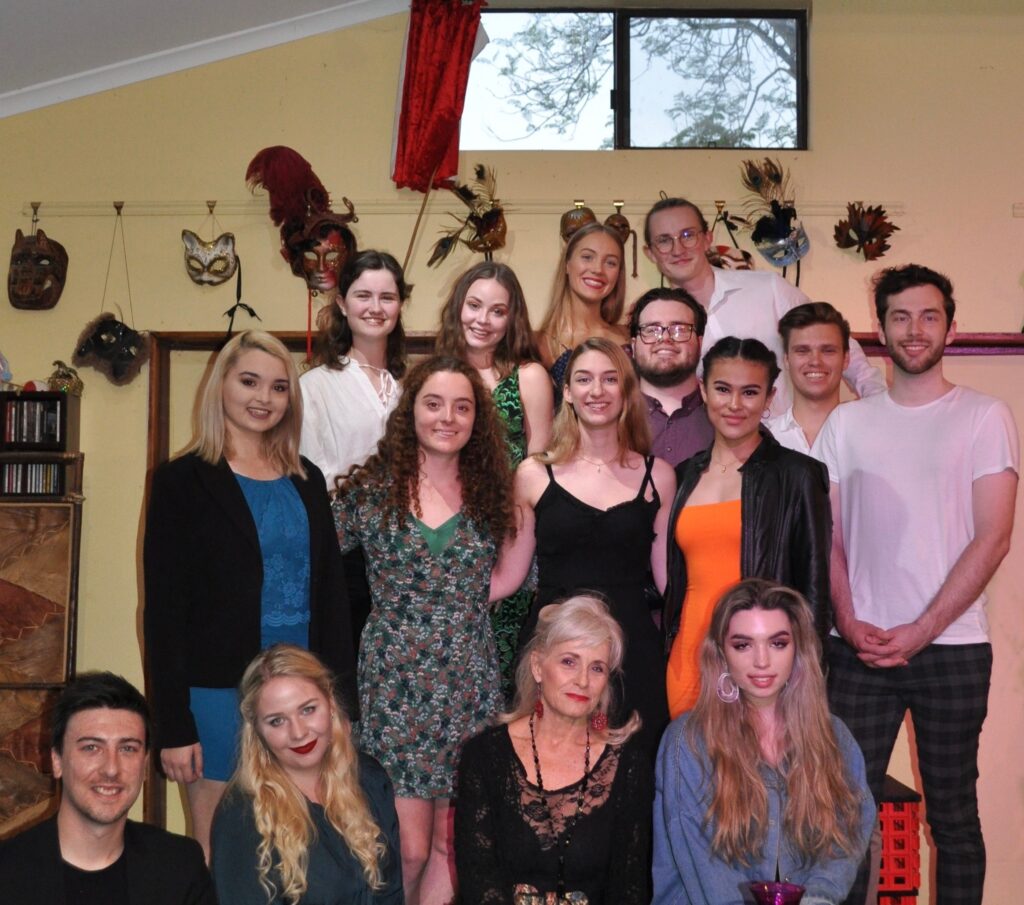 The Studio
Professional, inspiring …
A sanctuary for making music!
Welcome to my studio! Here we are all about discovering the joy of singing!
Located in Shenton Park, the studio has been operating since 1989 and lessons are conducted in a beautiful inspiring environment.
The studio is well-ventilated and there is an air purifier in the room.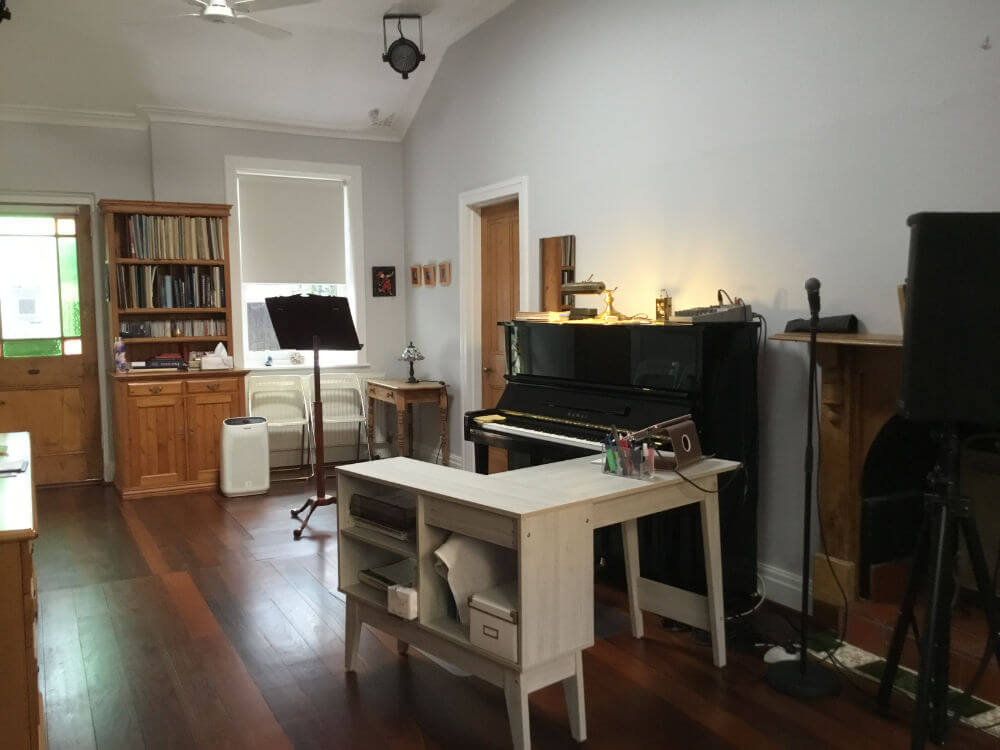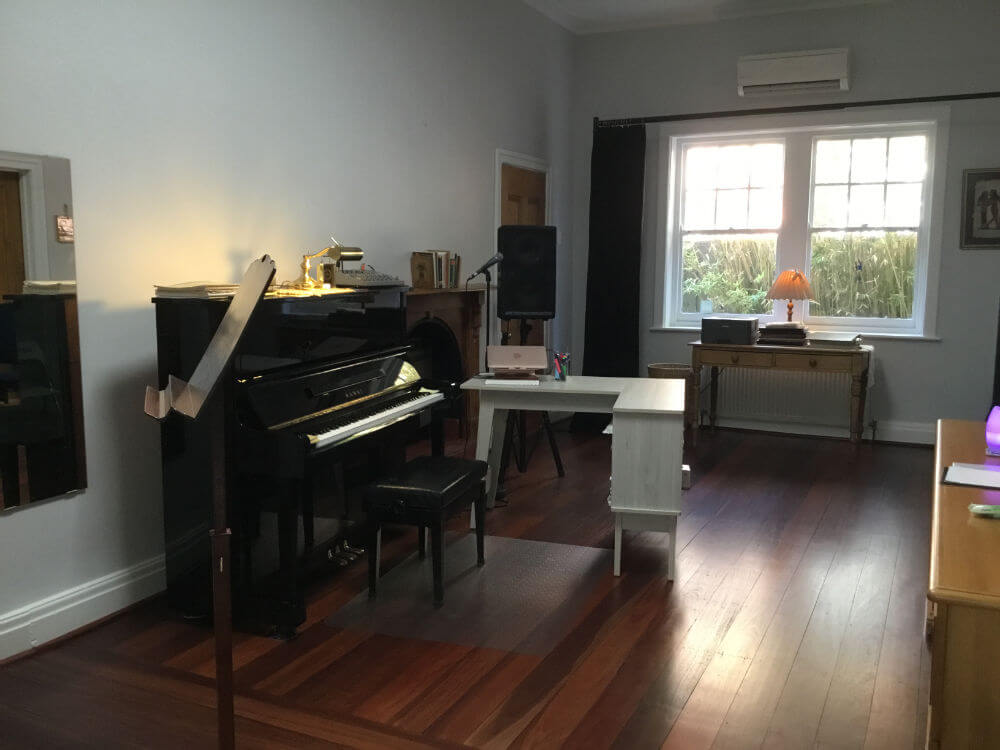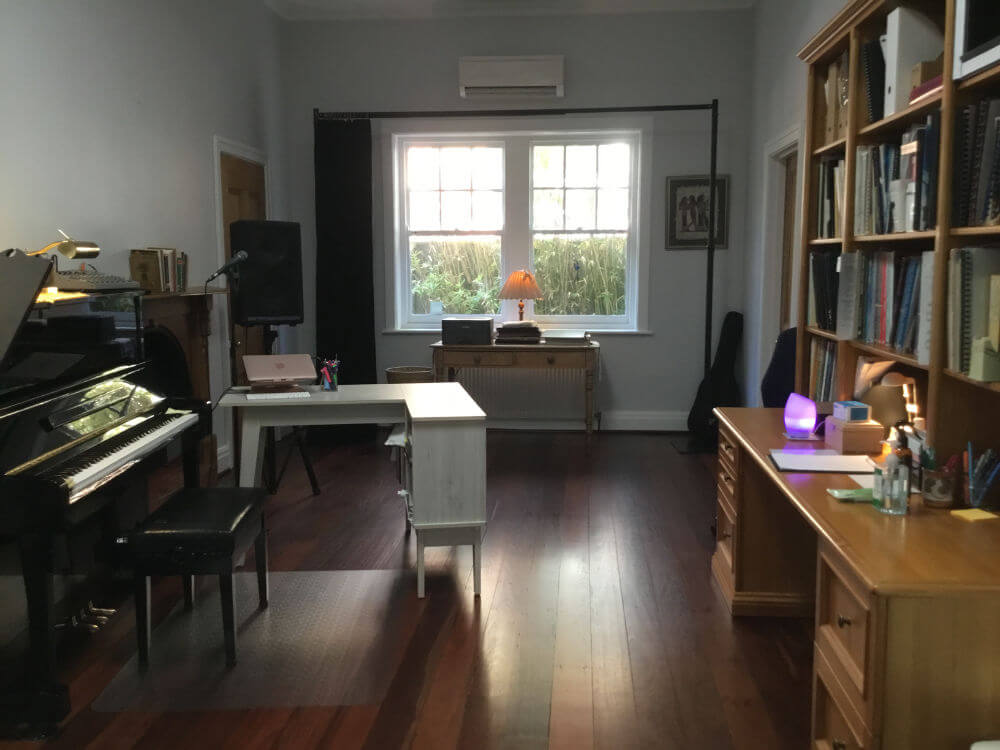 Benefit from my love of and expert skills in languages and many styles of singing and gain experience in performing when you are ready.
The type of song repertoire covered in the studio ranges from folk songs, classical art songs, musical theatre, contemporary and jazz depending on the voice and age of the singer.
I offer private one-on-one tuition for juniors, adolescents and adults.
Online lessons are available in case of illness or distance issues.
COVID Requirements
I am fully vaccinated. All students are required to be fully-vaccinated unless for extraordinary reasons. Please feel free to discuss this with me.
YOUNG SINGERS LESSONS
Ages 9-17
"Singing is a basic form of human expression" – Kenneth Phillips
What students will learn
How to manage their breath in singing
How to develop clear, beautiful and blended vowel tones
To develop a relaxed laryngeal posture
To sing fun, enjoyable age-appropriate songs (folk, popular and musical theatre, simple art songs, contemporary songs)
Singing in other languages and developing language skills while having fun
Singing develops confidence
To perform for others if they wish
Lesson Format
In lessons the students will do warm up exercises followed by simple vocalises (singing exercises without words using vowels) appropriate to the age of the student.
They then progress to using songs from their singing books (prescribed according to level and ability) and supplemented material.
Students have the opportunity to perform a solo with the piano accompaniment when they are ready. They will also take part in studio recitals and concerts. They are never pushed or coerced.
Young students are not expected to sing like adults and therefore do not have the same demands placed on them.
Recording the Lessons
Recording the lessons is essential for taking home the week's work for practice. It is a requirement for students learning in my studio to have a reliable recording device.
Parent Supervision of Home Practice
Younger students may need parents to supervise their practice at home. A parent may be required to stay in the whole lesson and take notes and/or record the lesson. This will be discussed prior to commencement of lessons. Generally parents are not required in the lesson but are welcome to attend from time to time.
Students who are not practicing at least five times a week on most weeks will not be allowed to continue tuition.
The art of singing is a discipline. The fun comes through and after hard work. It is the responsibility of the student to find that balance.
Programmes
I offer AMEB (Australian Music Examinations Board) performance exam preparation for classical, music theatre and Contemporary RSL. For Contemporary RSL find out more at rockschool.ameb.edu.au.
Students may also present an 'in studio' recital during the year during their lesson time. This may consist of a small collection of songs which may include a vocalise. These recitals may also serve as a 'test run' for up and coming exams for AMEB and various eisteddfods. For AMEB exams students must be accompanied by a professional accompanist to ensure their experience is of a high quality musically. I will provide the names and contacts of accompanists and parents are required to contact and arrange the rehearsal times.
All students are strongly encouraged to complete vocal exams in the AMEB curriculum. The AMEB is a nationally and internationally recognised system and is an excellent way of preparing for more advanced study later in Years 11&12 and beyond at tertiary institutions.
The qualifications from the AMEB are recognised and highly regarded by universities and conservatoriums around the country. More details at ameb.uwa.edu.au.
I specialise in Audition Preparation and can help you with all your requirements for this. More information.
Young Voice Lessons Fees
Initial Consult Lessons
The Consult Lesson is for school-age students between the ages of 9-18 wishing to enrol for the year and seeking a regular weekly spot. A consult lesson is required before enrolling in the studio.
During the Consult Lesson the student's readiness is assessed and discussed. It also provides the opportunity for me to advise on other required types of tuition before starting singing lessons if necessary (sometimes aural training is recommended).
After this lesson, a place may be made available. If there are no vacancies for a scheduled time, then you will be placed on a waiting list and contacted when one becomes available.
$120 for 60 minutes
(payable on or before the day)
Private Weekly Scheduled Lessons
Lessons for Term 1 2023 will begin on: MONDAY FEBRUARY 6TH
Private, one-on-one lessons for ages 9-18 (school-aged students) 45 minutes. Where no other 45 min. times are available a 30 minute lesson may be the only option. A minimum of 1 year commitment is expected. A consult lesson must be made prior to commencing.
Fees below are calculated using a 10-week term for school-aged students. Some terms may be shorter or longer depending on the school calendar year.
Makeup lessons are not permitted, unless I have cancelled a lesson. Swapping your lesson time with another student is sometimes possible (see Studio Policies for how this is done).
Lessons are scheduled between 3:00pm and 6:30pm from Monday to Thursday.
30 Minute Lessons
(only if there are no 45 min spots available)
$610* for 10 Lessons
$590* for 10 Lessons
(Early Bird Payment)
45 Minute Lessons
$900* for 10 Lessons
$885* for 10 Lessons
(Early Bird Payment)
60 Minute Lessons
$1,200* for 10 Lessons
$1,180* for 10 Lessons
(Early Bird Payment)
*Note
Fees must be paid by the first lesson of term or place may be forfeited.
Missed lessons and late cancellations charges apply. Please see FAQs.
Early Bird Payment required in advance by the due date on invoice prior to commencing term.
If you are taking up singing later in life, or you are coming back to it after a break, or if you are seriously starting your career, with consistent practice your voice will develop.
All styles of repertoire are covered from folk songs, music theatre, art song, lieder, opera, French mélodie, arts songs in Spanish from Spain, Latin America and Brazil, jazz and contemporary, including stagecraft and performance skills.
I especially love introducing a wide variety of the vast vocal repertoire and taking advantage of the richness that songs from all over the world in different languages can bring.
If your requirements are specific in a certain style of music I can help you to achieve your goal of a better performance and interpretation through solid technique and study of the song.
Whether you need to prepare for a performance, an audition or simply for the sheer enjoyment of singing, choose between 30, 45 and 60 minute lessons.
Excellent in-studio facilities including PA system, lesson recording, microphones with piano accompaniments and backing tracks including a music library for use in lessons (print music, reference books)
Multi-lingual coaching vocal repertoire
Sight-singing instruction and practice
Care and preservation of the voice
Foundations and development of correct technique in classical, contemporary and music theatre styles
How to warm up
Range extension, building power and strength
Exercises for correcting vocal problems
Advice on selecting and finding appropriate repertoire for auditions, recitals, exams and other performances from classical to jazz, music theatre and contemporary
Audition preparation for the Western Australian Academy of Performing Arts (WAAPA), UWA, Gondwana Voices, ATAR vocal programme, classical, contemporary/jazz and musical theatre and all other major institutions
Preparation for classical recitals, eisteddfods, AMEB exams, and most other performance requirements
What You Can Look Forward To Developing
A love for your own voice
A love for the repertoire (songs)
Controlled relaxation, good posture (i.e. knowing how to relax the jaw, arms, neck and shoulders etc.)
Awareness of breath support and intake
Vowel formation and consonant articulation
The correct onset of sound
Range extension and resonance
Sound knowledge of singing in all major languages (if required for the repertoire)
Stagecraft, how to perform, act and interpret the songs
Correct technique to suit the style of song
These factors are of prime importance in the contribution to good phrasing, diction and musicality in all styles produced.
Come on a journey with me and discover this beautiful art form!
Adults Private Lessons Fees
Initial Lesson
$120 for 60 minutes
60 Minute Lessons
$120* per lesson
45 Minute Lessons
$90* per lesson
Audition Preparation
I have many years experience helping students prepare for auditions of all kinds. I taught for WAAPA (West Australian Academy of Performing Arts) for 10 years and understand what is required for a successful audition in any major institution.
Whether your audition is for an institution, your school musical or a professional show I am here to guide you.
I will help you with song choices, where to source the music and then how to best mark your cut and communicate with your accompanist. You will want to have an acting coach work with you on your monologue and I will support this work by going over the monologue at the time of rehearsing your audition songs as well.
We will work on context of the songs, intent, motivation, and master an understanding of acting through song.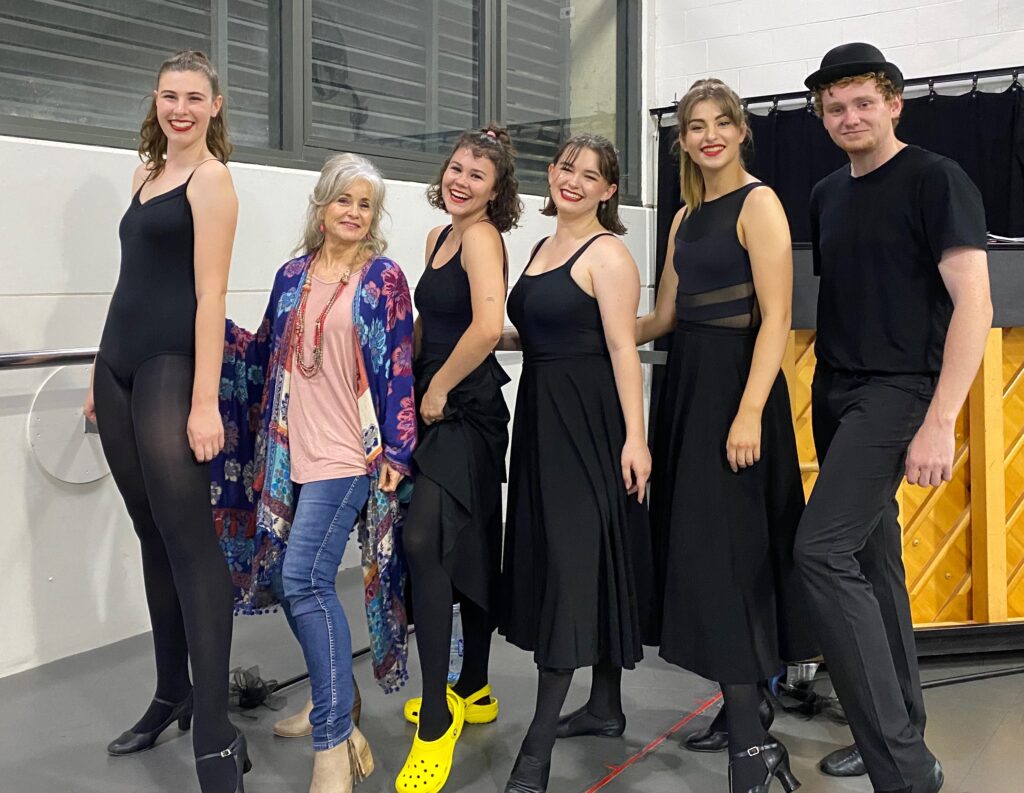 Finally you will do a 'simulation' of your audition in my studio and we will film it and then review together.
Should you require a space to do a filmed audition my studio is available and a good place to film during your lesson time.
Auditions can be a great time to polish your skills and improve your confidence in performing.
Auditioning is all too often the most difficult aspect of pursuing a career as a professional singer and actor. As a prospective student, try to think of your audition as a unique opportunity for you to introduce yourself to people who are your advocates and who very much want you to be good at what you do. This mind-set will serve you well in any audition situation. Always remember to take your time and to breathe. Your task is to share your talents – not to impress the auditors!