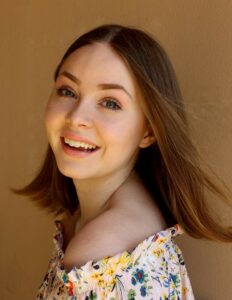 I started studying with Laura at the age of 15,  I was so eager and ready to learn and grow.
She took me in and refined and strengthened my voice, she showed me new areas of my voice I was never comfortable to sing in and she allowed me to discover the vast capabilities of the voice! Not only that, but Laura became a friend to me, her compassion and love for her students truly comes through in her teaching, I was so thankful to have her year after year, and to be able to stretch myself to new levels, knowing that I was in a safe and fun environment.

Throughout year 12 in 2017 we prepared for my first WAAPA audition, her vast knowledge allowed us to prepare with great strength, and at the end of that year I successfully auditioned and was accepted into the fantastic New Diploma of Musical Theatre course! 
Throughout 2018 Laura and I worked together for my most successful year yet. I auditioned again at the end of the year for the Bachelor of Music Theatre course. To my great joy I was accepted!!! Laura and I talked that evening with such excitement and joy, it was wonderful to have someone so invested in my journey, and someone that I know truly helped me get there! Thanks to Laura I can say that "dreams really do come true"! 
Thanks so much Laura, you're the best!
Amber Scates
WAAPA Diploma Music Theatre Graduate 2018
WAAPA Bachelor Music Theatre 2019-2021